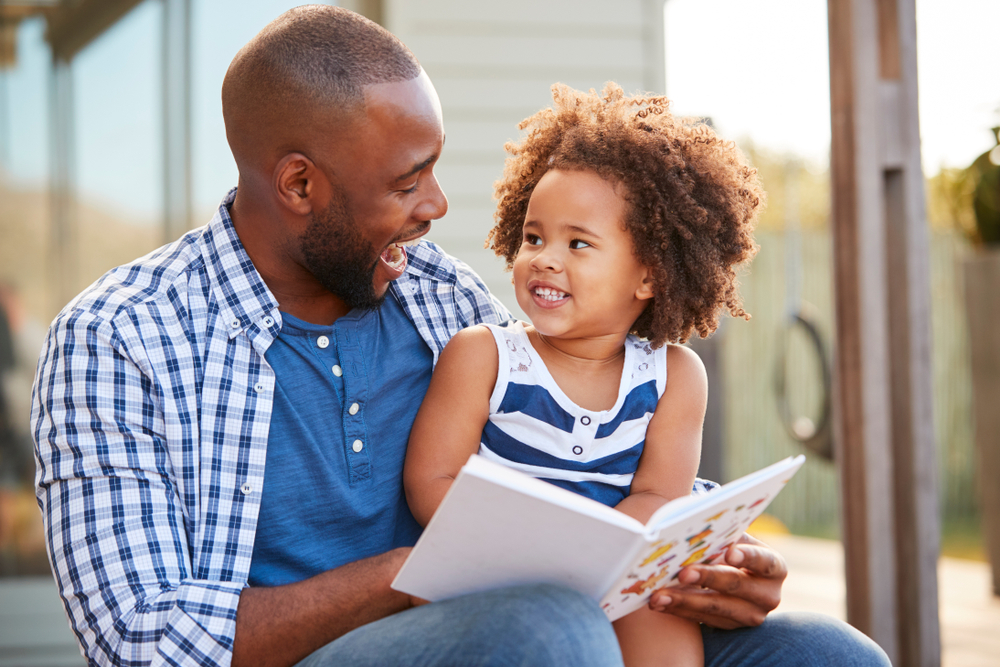 How Parents Can Foster Their Child's Identity
Engage in Distinguishing Behaviors
A person's identity is formed with the help of those around them, most notably parents. Sociologist H. David Kirk suggests that families who engage in distinguishing behaviors help their children integrate multiple aspects of their identity, leading to an easier adjustment. Distinguishing behaviors are actions that acknowledge and honor a child's genetic uniqueness within a genetically diverse family, while also celebrating shared family traits. Kirk identifies two types of families: those that acknowledge differences and those that reject them. Families who reject differences may contribute to secrecy and a more difficult adjustment for their kids.
In contrast, parents who engage in distinguishing behaviors create a positive outcome for their child's adjustment. Kirk suggests that "parents who are honest in acknowledging the inherent differences in family life are more likely to create an environment that helps to assuage the child's fear and guilt regarding their search for answers about their origins.
Accept Differences by Mirroring Self-Acceptance
As parents, we see and realize our child's unique personality before they understand themselves. Parents can be a mirror to their children, helping them see themselves since our brains are more developed and advanced. When parents engage in distinguishing behaviors, they mirror their child's developing identity back to them by noticing the traits they have in common and the traits that are different.
It's essential to remember that a child may be like us, but they are not us. Engaging in distinguishing behaviors is a way of appreciating that our child is a unique person, not a mini version of ourselves. As parents, we help shape their personality, not change it. Attempts to change a child from their true self can result in mental difficulties for them later in life. If we refuse to see parts of our child, they may learn to hide that part of who they are or disown it themselves. Disapproving of differences does not lead to self-acceptance but instead to self-denial, a major obstacle to healthy identity achievement.
As parents, we want to help our child embrace the wholeness of who they are, to integrate their traits, instead of fragmenting their identity. This will help their child accept themselves, fostering healthy identity.
This course will help parents learn to engage in distinguishing behaviors!
Course includes:
What genetic bewilderment is and how it impacts a person.
The significance of genetic identity
The role of genetic mirroring
How lack of information can impact identity development
The role of epigenetics in donor conception
What distinguishing behaviors are
How to practice distinguishing behaviors
Bonus: You get sample scripts to apply your new parenting skills.

Course materials written by Jana Rupnow, Professional Counselor specializing in third party reproduction and author of Three Makes Baby.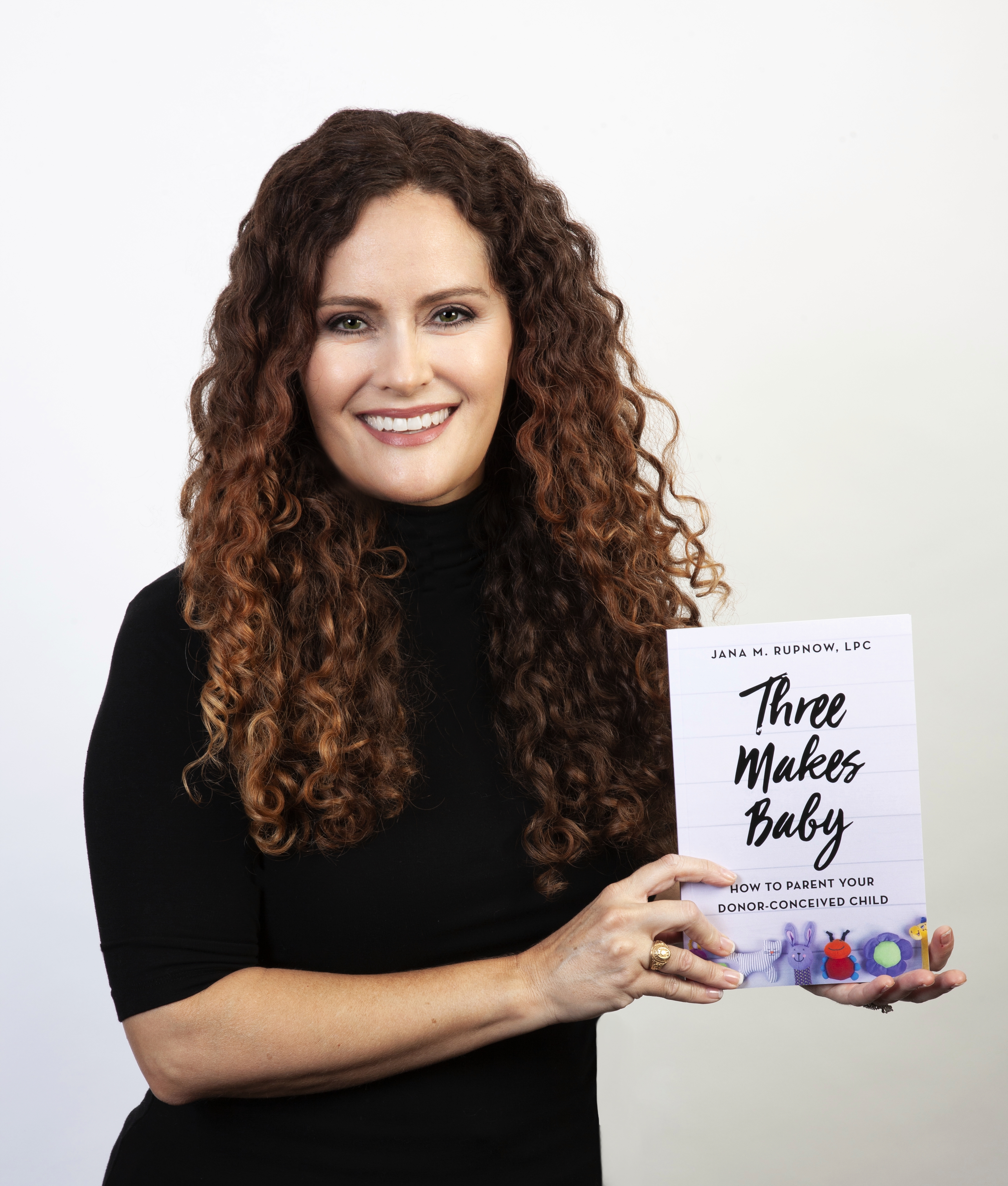 I'm Jana Rupnow.
Licensed Professional Counselor, Consultant and Author of Three Makes Baby.

After seeing countless in my office who have made the decision to use a donor and are searching for more information on donor conception, I knew more structure was need to prepare them. I developed concepts, teaching tool and exercises based on decades of professional observation.
This course offers strategies and exercises to help you build confidence as a future parent or parent of a donor conceived child. From feeling worried about connecting or wondering how being genetically different from your child will feel, this course will address it.
I designed this course in accordance with the American Society of Reproductive Medicine (ASRM) guidelines.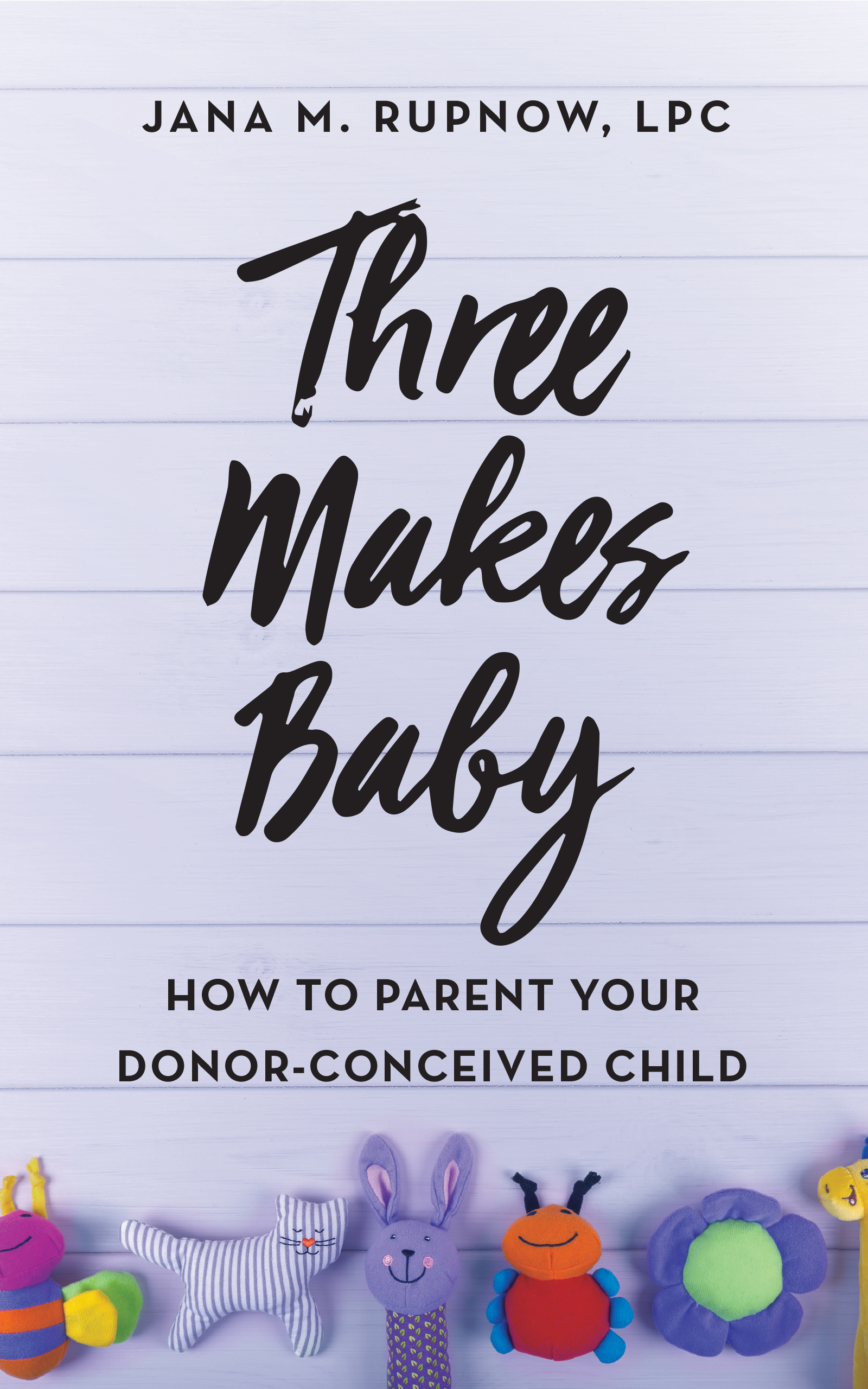 DO YOU KNOW—Most Common Concerns Intended Parents Have about Donor Conception?
Millions of people dream of having a baby but struggle for years with infertility or seek other unconventional ways to build a family. In an era of new options in reproductive medicine, many couples are using a third person's egg, sperm, or embryo to conceive. Having a child with another person's genetics is complex. Couples have concerns about how donor conception will affect their future family life, especially their child. Confusion and fear can leave parents feeling unequipped on this path to parenthood. Shame and unresolved grief about infertility create silence around a controversial topic that needs a voice. Secrets can hurt a family.
A fertility counselor addresses your urgent questions:
Why should we tell our child we're not genetically related?
How do we tell our child about donor conception?
And when is the best time?
What if my child is upset?
What if I don't feel like the real parent?
Will others treat our family differently?
Should we keep the donor a secret?
You can learn to overcome fears that make you want to keep a secret—yet maintain your family's privacy. This book offers education and awareness so parents can guide their donor-conceived children through various stages of development with age-appropriate conversations.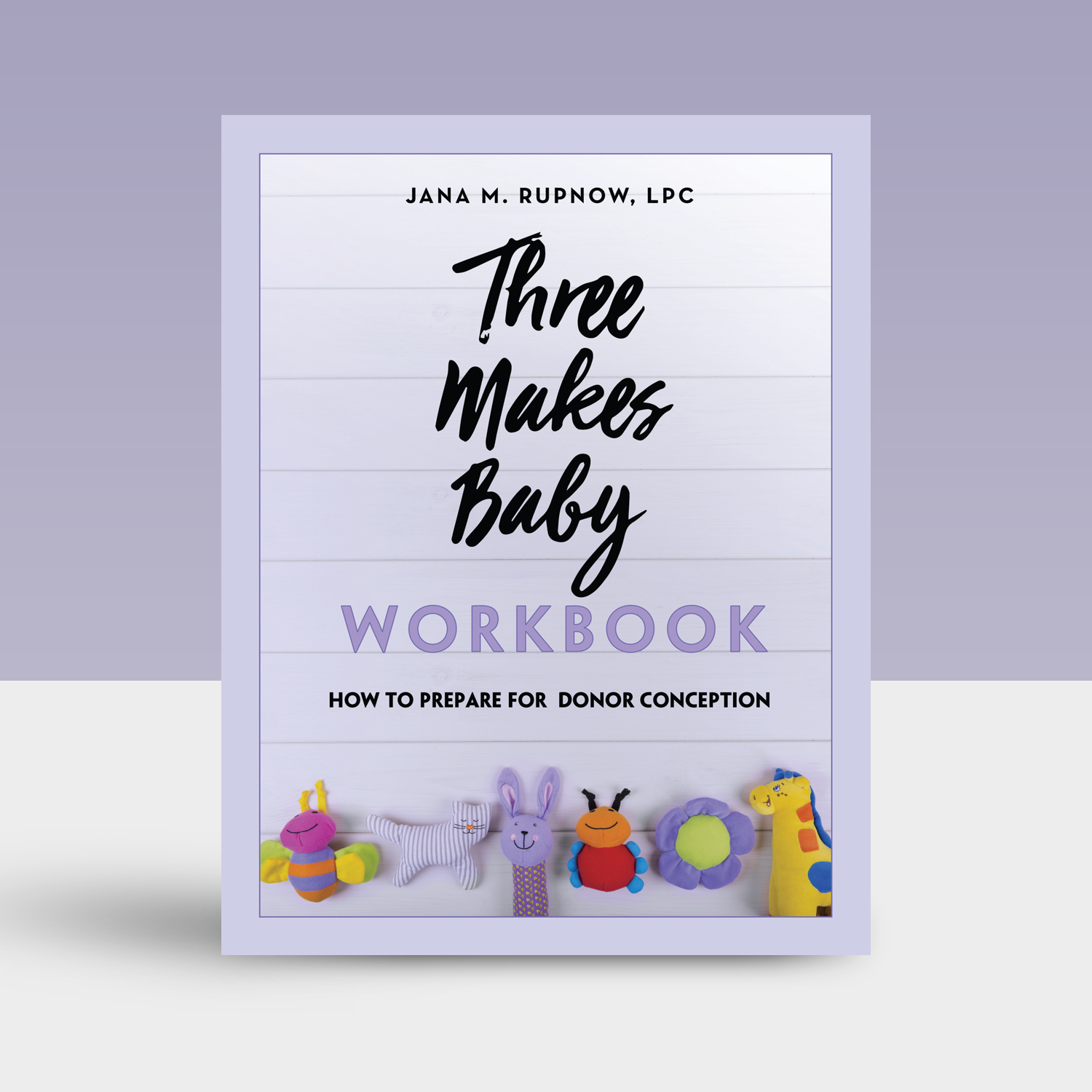 Three Makes Baby Workbook
Prepare to Use a Donor Three Makes Baby Workbook is the companion workbook to Three Makes Baby-How to Parent Your Donor-Conceived Child.
This workbook is designed to help readers work through Rupnow's "Five Common Fears About Donor Conception". Drawing on a more than a decade of professional experience with couples, Rupnow created twenty simple exercises to offer readers a way to identify their current attitudes, thoughts and feelings as they contemplate donor conception.
In this accessible workbook, self-tests, pointed questions, and journaling will help readers learn to apply the concepts outlined in Three Makes Baby-How to Parent Your Donor-Conceived Child. Brand new to this working edition is an illustration of the Carlile Grief Model (New Dream/Old Dream) and Thirty Questions to Ask Your Donor Program to be a more informed participant in the donation process. A bonus exercise written for the kids, uses game analogies to teach children how to respond to challenging questions from their peers.
Whether worried about your child's feelings, being the legitimate parent, or coping with social differences, this book offers a practical way to cope with the confusing thoughts and emotions that arise on the path to growing your family in a non-traditional way. The twenty exercises were written to give the reader clarity and help couples communicate about their specific concerns, feeling more empowered to make the best decisions for their family.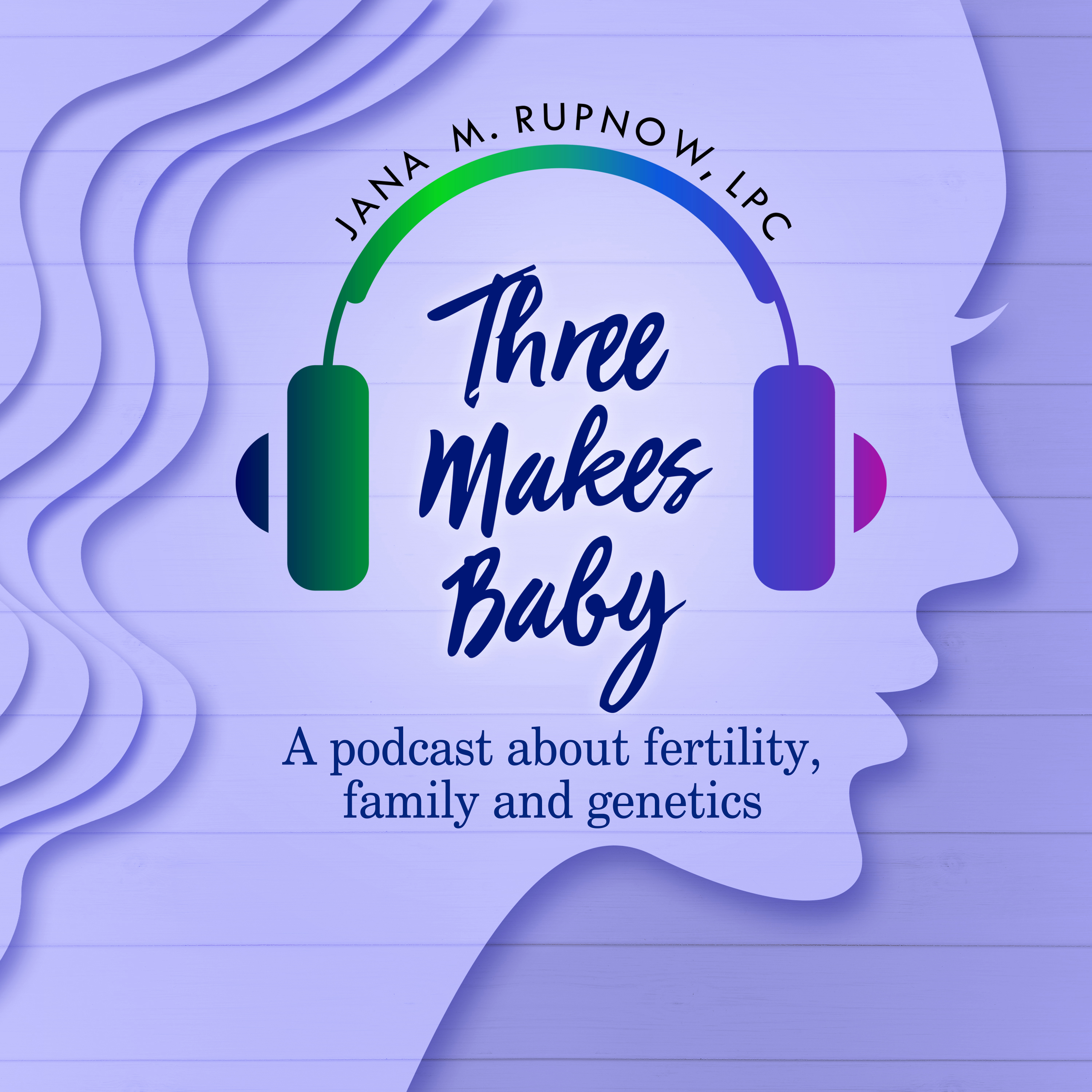 Fertility psychotherapist, Jana Rupnow, interviews parents, donor conceived individuals and professionals about the challenges and dilemmas of assisted reproductive technology baby-making and the expect-able tensions between positive and negative feelings that come along the way when, instead of baby makes three; three makes baby.